Bi-monthly Newsletter | Issue No. 28 | March 2021
                        Dear BES-Net Partners and Members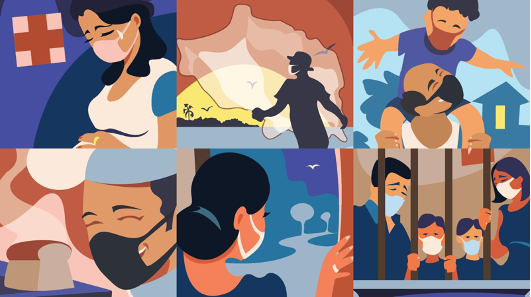 March 2021 marks one year for many of us around the world since the COVID-19 pandemic began and some of us are beginning to see the light at the end of the tunnel with vaccine delivery commencing in countries. March also marked a number of international commemorations and Women's History Month. This pandemic has forced us to reckon with many deep-seated inequalities and the gendered burdens we have seen manifest as a result of the pandemic and the lockdowns. Yet, in reconfiguring our relationship with nature in this recovery, we have a chance to also tackle gender inequalities in how resources are owned, managed and allocated. Through our wide network of partners, we have seen many women champions and gender equality champions, from local and indigenous communities, in biodiversity who have been leading the charge for decades, as custodians of the planet! While we recognize the challenges that lie before us, we take this opportunity to raise a toast and celebrate these champions and the many nature-based solutions they have brought to us!
Looking back, we've had a busy quarter at BES-Net! The expanded BES-Net team consisting of UNDP, UNEP-WCMC and UNESCO has led to us pooling our strengths together and leveraging each others' expertise to support countries in building commitment for biodiversity conservation and ecosystem protection. At the 24th meeting of the CBD's Subsidiary Body on Scientific, Technical and Technological Advice, UNEP-WCMC, in preparation, published an information document on national ecosystem assessments to highlight their initial impact in supporting the CBD and its protocols. We also had the opportunity to kickstart the assessment process for the Dominican Republic, Malawi and Thailand with an inception workshop. A range of unique and specific ecosystem policy issues are being explored in each of these countries and the role of indigenous and local knowledge holders is being emphasized slowly through this process. For more information about the inception workshop.
Our work with the practice sector partners across Francophone Africa through 2020's virtual Trialogue continues steadily with our recently released report compiling lessons learned and experiences across seven countries. From local farming practices to medical benefits of tree species to channelling the power of youth for pollination and many more, innovative lessons from the region are abundant. Click here to read the report in detail and visit here to check out some of our human-interest stories from Togo and Cameroon.
We have continued to expand our network, bringing two new partners into the fold: the Turtle Island Institute and Life4Pollinators. We welcome partners to engage with us and with each other towards greater collaboration for biodiversity and conservation issues! Interested in a partnership or collaboration? Please reach out to us at alexandra.postrigan@undp.org, and prashanthi.subramaniam@undp.org!
Photo source: UNDP
Conservation lessons from a year of the pandemic
As we mark the first anniversary of the World Health Organization's formal declaration of a global pandemic arising from the SARS-CoV-2 virus, it seemed appropriate to take a renewed look at how the pandemic is affecting biodiversity, ecosystem services and the people dependent upon them.
Initial analysis of the impact of the pandemic on biodiversity was generally, but perhaps anecdotally, positive, claiming improved safety of wildlife in protected and conserved areas with less human pressure as a result of lockdown measures. Now, one year on, it is possible to take a more considered view, as a number of useful reviews are becoming available and the overall picture is becoming a good deal darker.
Following from an early overview of the initial impacts of the pandemic on protected area by Hockings et al. back in June 2020, 150 members of the IUCN World Commission on Protected Areas (WCPA) global network of conservation practitioners have compiled a truly comprehensive review of the diverse impacts of the pandemic across the many faces of wildlife conservation as a result of tourism's dramatic downturn.
The SARS-COV-2 pandemic has provided an unwanted "stress test" to the global protected area system and wider natural habitats. This special issue of PARKS provides valuable lessons and recommendations on how to build back better for biodiversity and ecosystem services.
The pandemic has brought its own challenges in funding and maintaining conservation work, which usually depends on tourism revenues, as do many local communities. Reduced monitoring of illegal wildlife trade, weakened environmental legislations and loss of income and livelihoods among rangers pose very real threats. 2021 needs to be the year of reversing these trends and investing in a pandemic recovery that also speaks to our conservation goals.
Those wanting a taste of the reviews could start with Marc Hockings'  news article here. Alternatively, the opening editorial introduction and final postscript can be read as a kind of Executive Summary, whilst those still with time of their hands as a result of lockdown restrictions, can digest all 16 articles (200 pages) of the special issue here.
The TALE Project wins BiodivERsA prize for excellence and impact
BiodivERsA and FACCE-JPI are happy to announce the winner of the fourth edition of the BiodivERsA Prize for Excellence and Impact: the TALE project. The project investigated the potential conflicts and possible synergies between agricultural services and biodiversity through the development of land use scenarios and optimisation models. Following the three laureates of the previous editions (URBES, BUFFER, INVAXEN), TALE has been awarded the opportunity to feature their project results in an animated video. The Belgian Biodiversity Platform led the production of this video, along with the TALE project researchers, BiodivERsA, FACCE-JPI, and the motion design studio Squarefish.
Listen: NatureServe launches podcast series keeping the conservation conversation going
                  .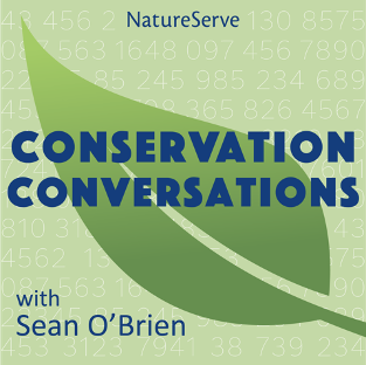 NatureServe has launched its premier podcast series, Conservation Conversations with Sean O'Brien. Hosted by NatureServe's President & CEO, Dr. Sean T. O'Brien, each episode features an exclusive interview with a leading expert in the conservation field. Geared towards both conservation professionals and casual listeners alike, this educational and entertaining podcast discusses how emerging technologies can benefit conservation, regional and global trends in biodiversity, and the future for life on Earth. Conservation Conversations with Sean O'Brien is released on a monthly basis and can be found wherever you listen to your podcasts.
Visit this link to learn more: http://natureserve.org/connect/conservation-conversations-sean-obrien
Bio-bridge Initiative kicks off next phase for post-2020 global biodiversity framework

                  .
The Republic of Korea and the Secretariat of the Convention on Biological Diversity have signed a funding agreement for the second phase of the Bio-Bridge Initiative (BBI) over the next five years (2021-2025). The Bio-Bridge Initiative aims to promote and facilitate technical and scientific cooperation to help Parties and relevant organizations implement the Convention and its Protocols. The second phase will focus on enabling countries to harness science, technology and innovation for the implementation of the post-2020 global biodiversity framework. Helpdesk services will be enhanced through the BBI matchmaking platform and the establishment of regional helpdesks to support Parties in articulating needs and partnering up with stakeholders. The Initiative will also provide seed funding for projects that facilitate the sharing of knowledge, expertise and innovative solutions through cooperation. To date, BBI has supported 38 projects covering various thematic areas. Organizations interested in offering technical support are invited to register as providers of technical assistance.
Share your story at PANORAMA's Live Story Slam!
                  .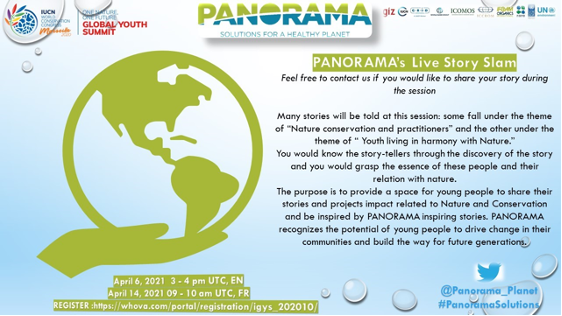 PANORAMA will be hosting two storytelling sessions in English and French on "Youth living in harmony with Nature" at the International Union for Conservation of Nature (IUCN) Global Youth Summit aimed at bringing together youth for one nature and one future.
During the storytelling sessions, you will get to know the storytellers through the discovery of the story and grasp the essence of these people and their relation with nature. Some stories fall under the theme "Nature conservation and practitioners" and the others under the theme "Youth living in harmony with Nature." The purpose is to provide a space for young people to share their stories and projects related to Nature and Conservation, and be inspired by the PANORAMA platform. PANORAMA recognises the potential of young people to drive change in their communities and to build way for future generations. Taking place a few months before the IUCN World Conservation Congress, the Global Youth Summit will enable young people from around the world to connect, exchange ideas and experiences. A Summit Outcome statement will be delivered to the IUCN Members' Assembly in Marseille, France.

The Open Knowledge Foundation also recognised the PANORAMA platform with a mini-grant for the theme "Environmental Data". The announcement was made during a celebration of the Open Data Day on Saturday 6th March 2021.
South African National Plant Checklist for 2021 released online
                  .

By Dr Ronell R. Klopper from the South African National Biodiversity Institute (SANBI)
Up-to-date checklists are crucial tools for biodiversity related activities. As part of its mandate, SANBI provides an online checklist of South African plants, with an updated version released in January every year. The 2021 official yearly release of the South African National Plant Checklist (SANPC) is now available online at the following URL: http://opus.sanbi.org/handle/20.500.12143/6880
Along with the SANPC, readers can also find relevant reports, glossaries, reports summarising additions and changes made in the SANPC during certain time periods, as well as references to relevant literature , the SANPC Policy, statistics for the plants occurring in South Africa, as well as the FSA region.
More up-to-date information can still be obtained, on www.posa.sanbi.org together with specimen level data. These resources currently only cover indigenous and naturalised (including invasive) plants occurring in South Africa. For any references, discrepancies, mistakes, or omissions relating to the taxonomic backbone while using these resources, kindly contact Dr Ronell R Klopper on r.klopper@sanbi.org.za.
Handy tip: You can also access OPUS (opus.sanbi.org), then click on Browse in the menu ribbon at the top to open the drop down list; select Communities & Collections; then go to Datasets; click on 'South African National Plant Checklist: yearly release and official documentation'.
Invitation: Kick-off meeting of the BiodivERsA funded projects on biodiversity and climate change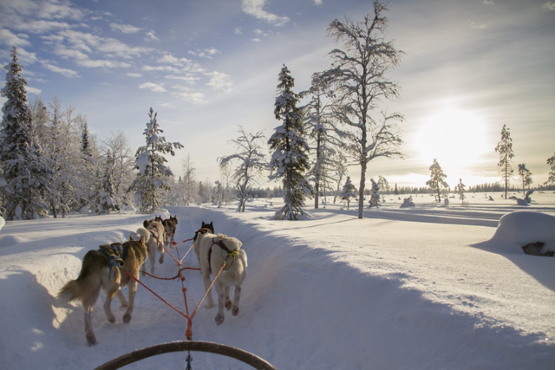 BiodivERsA is pleased to invite you to the kick-off meeting of the 21 research projects funded through its 2019-2020 Joint Call on "Biodiversity and Climate Change". This kick-off will be an opportunity to learn more about these academically excellent projects, mobilising a wide range of disciplines, engaging many relevant stakeholders, and addressing various pressing scientific and societal issues.
Please register here: https://zoom.us/meeting/register/tJwscOGvrjItHNxn07EIsfKHb7__K_6Tg45T%20
South Africa' biodiversity protocols and guidelines assist specialist studies in EIAs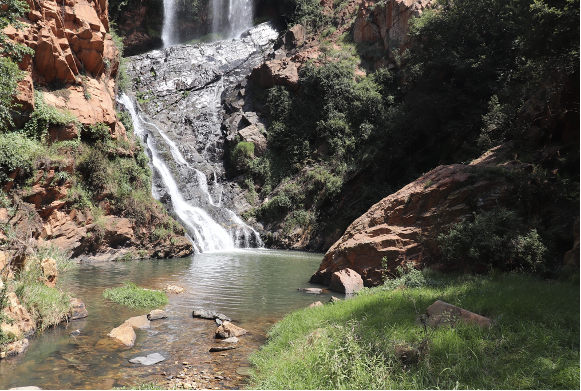 The development and consequent gazetting of the Terrestrial Plant Species and Terrestrial Animal Species Protocols, as well as a set of guidelines is the culmination of three years of work done by the South African National Biodiversity Institute (SANBI) in collaboration with its national  Department of Environment, Forestry and Fisheries (DEFF), the Council for Scientific and Industrial Research (CSIR), BirdLife South Africa and various biodiversity species specialists through the Global Environment Facility (GEF) and United Nations Development Programme (UNDP) funded Biodiversity and Land Use Project.
The Protocols were developed in consultation with the respective Environmental Impact Assessment (EIA) competent authorities and multiple stakeholder groups at national government level in South Africa. The need for the development of the Protocols arose due to the challenges experienced by competent authorities when it comes to making decisions on EIA applications, as there was no standardized approach or requirement for specialist studies in EIAs in the country. The use of various sets of minimum information requirements when conducting specialist assessments and documentation not containing adequate information are some of the aspects that made it challenging.  In addition, the lack of readily available spatial information on the contemporary location of species of conservation concern to support the decision-making process also contributed to the challenges experienced by competent authorities when dealing with EIA applications.
The Terrestrial Plant and Animal Species Protocols were gazetted for implementation in October 2020, following the gazetting of the Terrestrial and Aquatic Biodiversity Protocols earlier this year. The Protocols aim to provide the minimum information and assessment requirements for species and ecosystem specialist studies, thereby standardising species-level and ecosystems-level aspects of EIAs and the reporting of potential impacts from proposed developments on species of conservation concern (SCC) and ecosystems. The Protocols describe the type of assessments that should occur for each sensitivity level represented in DEFF's online Environmental Impact Assessment screening tool for a particular theme.
Furthermore, a Species Environmental Assessment Guideline, a first for South Africa, was developed and finalised in October 2020. The Guideline provides background and context to the requirements set by the respective species Protocols, as well as guidance on sampling and data collection methodologies for the different taxonomic groups represented therein, and represents the most efficient and effective manner in which the Terrestrial Animal and Plant Species Protocols can be complied with.
The Species Environmental Assessment Guideline is intended for specialist studies undertaken for activities that have triggered a listed and specified activity in terms of South Africa's  National Environmental Management Act, 1998 (No. 107 of 1998) (NEMA), as identified by the EIA Regulations, 2014 (as amended) and Listing Notices 1-3.
For more information on this area of work please contact Abigail Bahindwa on a.bahindwa@sanbi.org.za  or Mthobisi Nzimande on m.nzimande@sanbi.org.za.
Event Update: Business and Biodiversity Conference

As part of the scoping process for the assessment of the impact and dependence of business on biodiversity and nature's contributions to people ("business and biodiversity assessment"), an online conference was held by IPBES from 25–26 March 2021.
The conference focused on two main themes. Firstly, the types of impacts and dependences of various businesses on biodiversity, including extractives and infrastructure. The second theme focused on available indicators and metrics to measure impacts and dependence.
For more information: https://ipbes.net/scoping-meeting-business-and-biodiversity-assessment
Registration for IPBES-8 opens!



The 8th session of the IPBES Plenary will take place online from 14th to 24th June, 2021 virtually. This will be preceded by regional consultations and there are opportunities for participation in specific "Stakeholder Days".

The Plenary will discuss the scoping documents of the  two key assessments currently in production: (i)

the Nexus Assessment

looking at the links between biodiversity, food and health in the context of climate change; and (ii)

the

Transformative Change Assessmen

t 

looking at the underlying causes for biodiversity loss and the determinants of transformative change and achieving the 2050 vision for biodiversity. Registration for members and observers is open now and the deadline is 17 May 2021.
Why does this matter?
Mainstreaming gender in biodiversity requires recognising the influence of gender roles and relationships on access, use, management of natural resources. Gender is not defined solely by sex or biological differences between women and men; instead, it is determined by a specific context's social and cultural norms. Different gender policies at the national level are implicitly influenced by the roles and responsibilities assigned to women and men, girls and boys, regarding access to knowledge, working conditions, and decision-making power. Gender inequalities tend to favour men and heterosexuals in economic opportunities, while biodiversity loss, climate change and natural disasters place a significant burden on the most vulnerable and marginalised communities. This extreme vulnerability is accentuated in the Global South, where low-income rural communities' needs largely depend on natural resources.
Several transformational strategies have been adopted at the international level to promote gender equality in the BES space, including CBD Action Plan for Gender Equality 2015-2020 and UNCCD Gender Action Plan. However, the strategies' catalytic power may be defied by the global pandemic, making it even more critical to integrate a gender-responsive and gender-balanced process in developing the post-2020 global biodiversity framework. Read on to know more!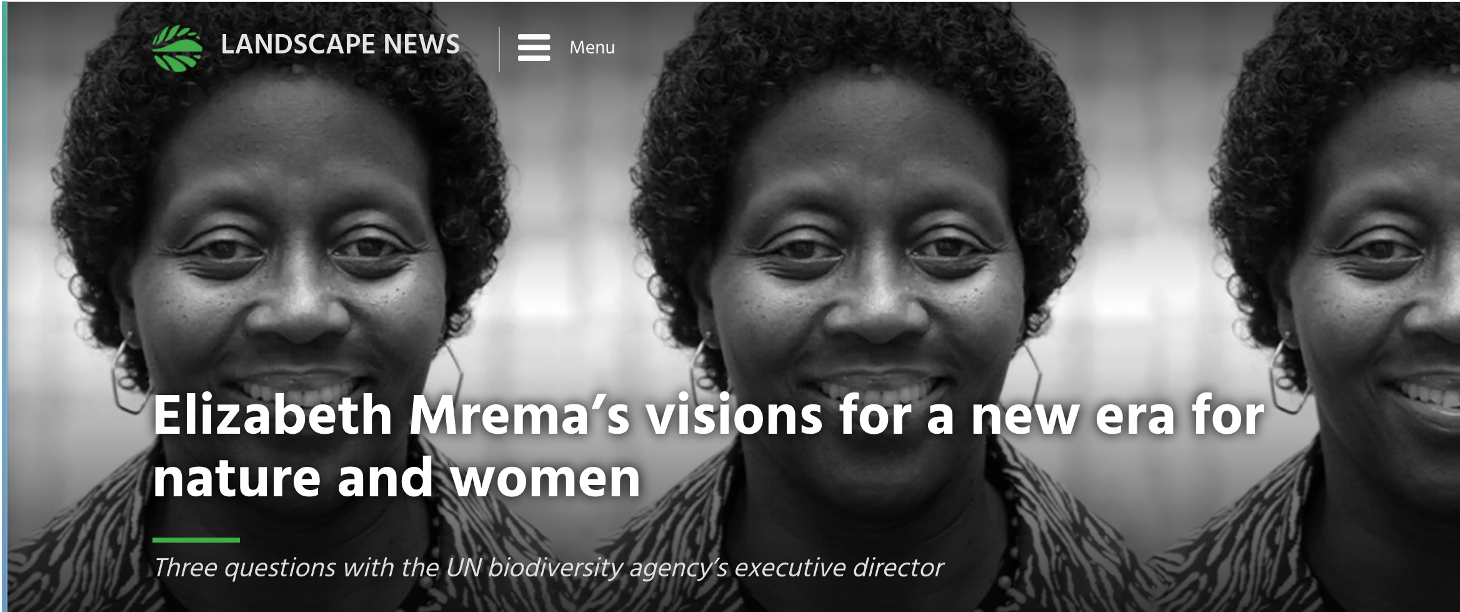 BES-Net's Pick: Check out this interview! Click

here

.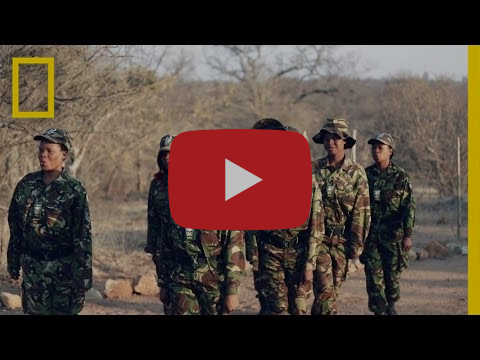 BES-Net's Pick: Watch this video with the world's first all-female team combatting poaching!
Gender and Biodiversity Nexus Virtual Dialogue Series
29th- 30th March, 2021
2020 was also intended to be a ground-breaking year for gender equality, marking the 25th anniversary of the Beijing Platform for Action. Instead, the COVID-19 pandemic has been shown to have disproportionate impacts on women, and risks rolling back the limited gains made in recent decades, deepening pre-existing inequalities. The UN Secretary General has called for solidarity in response to the pandemic, highlighting the need to focus on people, and the most vulnerable – in particular, he has emphasized that "women and girls [should be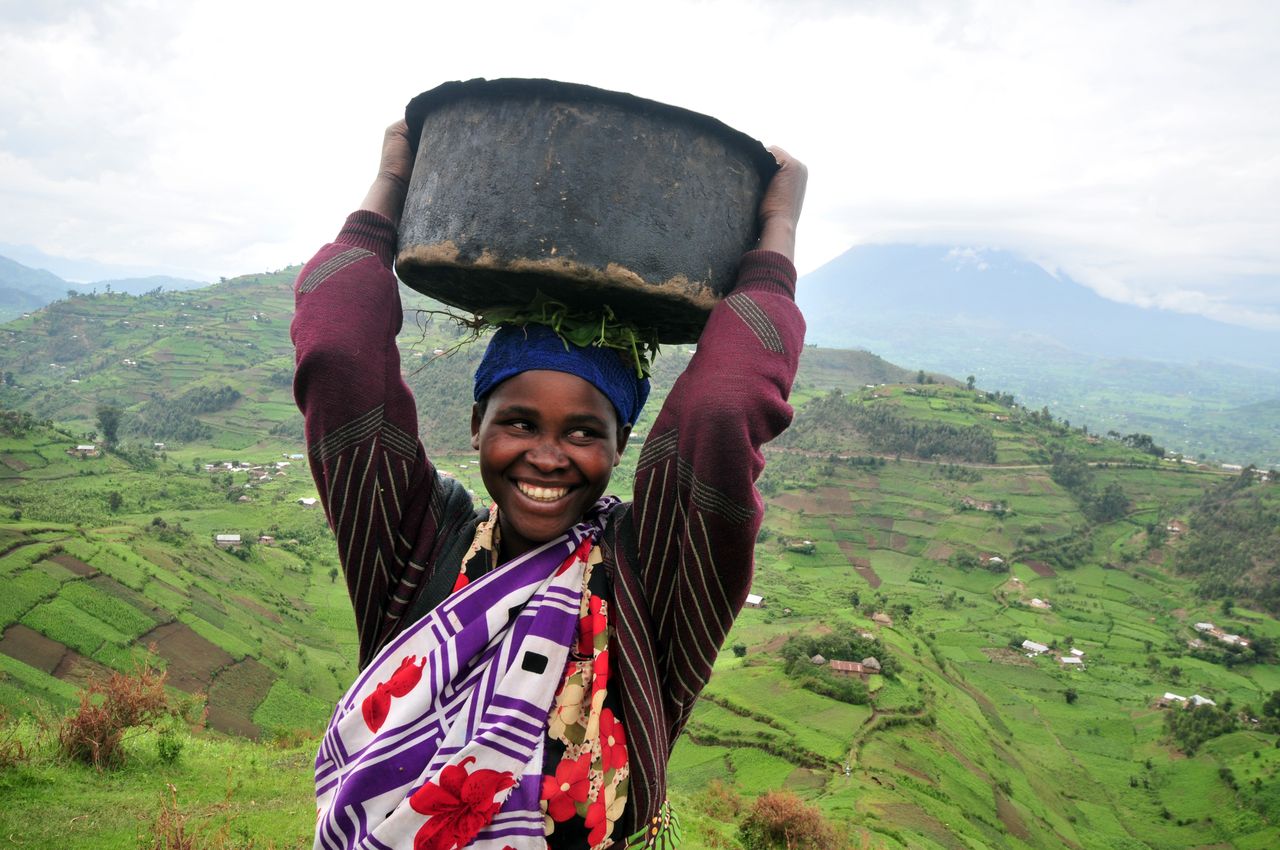 put] at the centre of efforts to recover from COVID- 19". Against this background, the UN Environment Management Group ("EMG"), in close collaboration with the Secretariat of the Convention on Biological Diversity (CBD), will organise a two- part series of virtual Nexus Dialogues on gender and biodiversity, in alignment with UNEP's COVID-19 response which emphasizes modernizing environmental governance and multilateralism with a move towards virtual e-platforms, while simultaneously lowering the overall environmental footprint.
An introductory dialogue (Unpacking Linkages with Gender and Biodiversity in UN System Efforts) will provide an overview of priority objectives to address persistent gender and biodiversity challenges, and their linkages with the broader environmental and sustainable development agenda. This will be followed by a workshop (Towards Gender Responsive Biodiversity Action and Outcomes) focusing on the gaps, opportunities and next steps for collaboration and synergies in implementation of a new gender plan of action for biodiversity, and for gender responsive implementation of the post-2020 global biodiversity framework.
For more information: https://unemg.org/gender-biodiversity-nexus-dialogue/
Outside the Honeypot: Wildlife Recording in the Urban World
6th-7th May, 2021
New dates for IUCN World Conservation Congress
11th-24th October, 2021

The International Union for Conservation of Nature (IUCN) and the French government have agreed to hold the IUCN World Conservation Congress 2020 from 3 to 11 September 2021 in Marseille. The event, originally scheduled for June 2020, was postponed due to the COVID-19 pandemic.
The world is increasingly recognising the inextricable link between biodiversity conservation and human and economic wellbeing, a connection made all the more visible by the COVID-19 pandemic. The IUCN Congress will be a key milestone for nature conservation and the development of a new global framework for biodiversity. The French government and IUCN remain steadfast in their commitment to these goals.
For more information: https://www.iucncongress2020.org/
Togolese Radio Programme promotes environmental education in COVID-19 times:
Click

here

to read all about it!
Cameroon's community-driven CSOs strengthen women's participation in Agroforestry during COVID-19: Click

here

to read all about it!
Senior Director, Carbon Team
Organization: Conservation International
Location:  Africa
Closing date: 15 April 2021
See here.
---
Lecturer in Biodiversity
Organization: University of Kent
Location: Canterbury, UK
Closing date: 25 April 2021
See here.
FOLLOW US ON SOCIAL MEDIA!
Copyright © 2021 BES-Net, All rights reserved.
You receive this email because you registered as a user or participant in one of our events.
The Biodiversity and Ecosystem Services Network (BES-Net) is a capacity sharing "network of networks" that promotes dialogue between science, policy and practice for more effective management of biodiversity and ecosystems, contributing to long-term human well-being and sustainable development. The BES-Net Consortium is made up of UNDP, UNEP-WCMC and UNESCO and is implemented with the support of the Government of Germany's International Climate Initiative.
Want to change how you receive these emails?
You can update your preferences or unsubscribe from this list.