Bi-monthly Newsletter | Issue No. 29 | May 2021
                                      Dear BES-Net Partners and Members

May is an important month for biodiversity, marking several international commemorations, including World Bee Day and the International Day for Biological Diversity. As we co-organised and attended a number of events dedicated to these celebrations, we asked ourselves and our partners what it means to be "part of the solution". As we enter the Decade of Action for Ecosystem Restoration, the world demands bold decisions to step up our shared commitment to biodiversity conservation. 
As the consortium (UNDP, UNEP-WCMC and UNESCO), we continue to do our part and pursue our commitment to support biodiversity action. The National Ecosystem Assessment (NEA) support in target countries continues, with the first Colombian NEA soon to be launched. The assessment results aim at driving policy, civic action, and future research on biodiversity and ecosystem services.
In April, Kenya's First National Trialogue kick-started the action planning process  for the uptake of two IPBES thematic assessments with constructive discussions to explore cross-sectoral collaboration for land degradation neutrality, pollinators protection and food security in Kenya. Another encouraging achievement of the post-Trialogue phase comes from Nigeria, where a webinar dedicated to World Bee Day was organised as part of Nigeria's Trialogue to Promote Pollinators and BES. This two-day event culminated with a heart-warming art exhibition that celebrated bees' fundamental role in our lives, as seen by young children.
Our Network continues to grow in the meantime. In May, we welcomed on board African Biodiversity Network (ABN), a natural partner for BES-Net, given our shared focus on food security and ecosystem services in Africa. We are pleased to acknowledge the proactive approach of some of our partners engaging with each other. Tapping into the Network's expertise is one of the benefits of being part of BES-Net, so we encourage knowledge-sharing and active collaboration towards biodiversity conservation.
Are you part (or aware of) an organisation that might be interested in joining our Network? Please reach out to us at alexandra.postrigan@undp.org, and prashanthi.subramaniam@undp.org!
Photo source: UN CBD
Assessing IPBES' Impact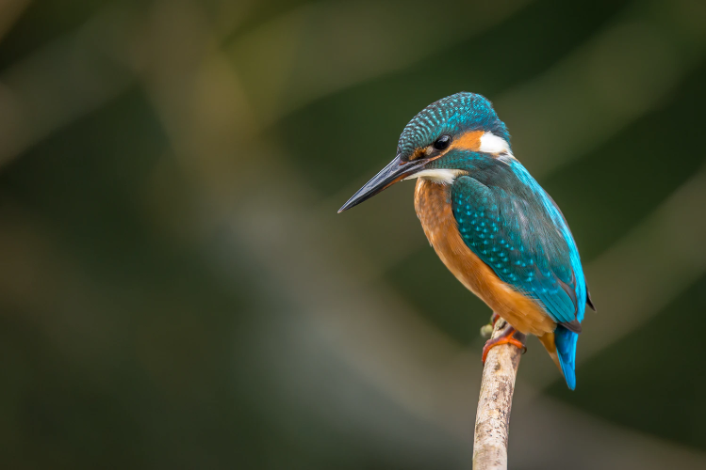 This June, participants will meet online for IPBES-8 to review progress with the rolling Programme of Work, focusing on assessing knowledge, but also taking into consideration how these knowledge products are used to generate impact.
Since its establishment nearly a decade ago, IPBES has  generated and released eight global and regional assessments (IPBES 2016a, 2016b, 2018a, 2018b, 2018c, 2018d, 2018e, 2019) with three more, on values, sustainable use, and invasive alien species (IAS), currently in preparation scheduled to be finalized by IPBES-9 and -10 respectively, and four more, on biodiversity and climate change, business and biodiversity, transformative change, and the interlinkages among biodiversity, water, food and health in the context of climate change, also to be released in future plenaries.  This impressive set of reports has definitely had a large impact on the biodiversity science community and has made significant progress with combining different forms of knowledge, both traditional and scientific.
A measure of the breadth of impact of the IPBES knowledge products can be sampled from the innovative Impact tracking tool on the IPBES website. For example, the day after the release of the IPBES global assessment in 2019, the environment ministers of the G7 adopted the Metz Charter on Biodiversity, providing high-level political commitment to halt biodiversity loss and to work towards a strong global deal for nature and people in 2020 at the, now delayed, COP15 to the Convention on Biological Diversity. On the other hand, try to gauge the possible impact of this example from the tracking tool database! Browsing the over 400 entries in the database can provide inspiration for new ways to use IPBES knowledge products to shape biodiversity policy and actions and newsletter readers can perhaps supplement the database with more examples to inform IPBES's work.
Life4Pollinators launches educational materials and local activities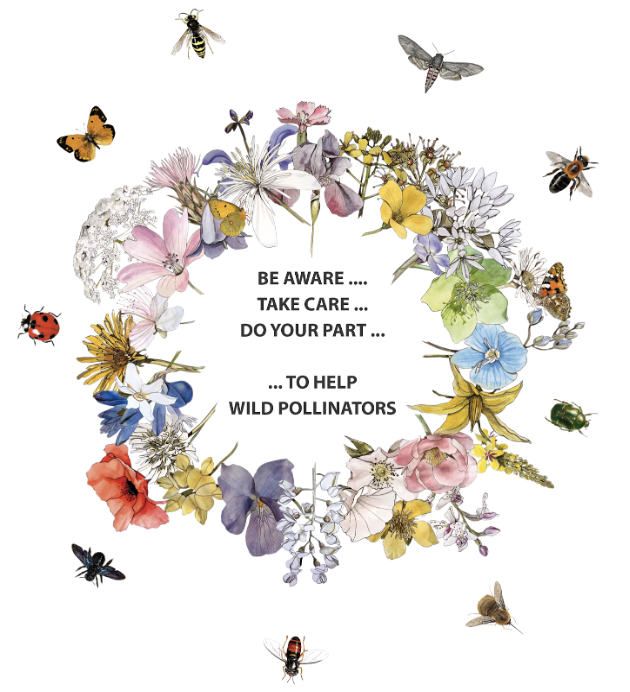 After a long break from most social events during the recent pandemic, Life4Pollinators is now set to start its activities in the coming months. Stay tuned to Life4Pollinator's social channels, to discover the educational material, such as the pollinators (bees, wasps, butterflies & moths, flies and beetles) and entomophilous plants field guides, that were launched on the World Bee Day and the International Day for Biological Diversity. In June the first BioBlitz-activities will start to take place in Italy in collaboration with the Regione Lombardia and in Spain in the Balearic Islands, to engage the public in pollinator monitoring and conservation. Launching the submission platform, the project will also contribute to making meaningful progress in pollinator conservation across the Mediterranean region.
Stay tuned on www.life4pollinator.eu,Facebook, Instagram and Twitter.
DGPA's Advocacy leads to milestone legislation for indigenous peoples in DRC
April 2021 marked a crucial step for protecting indigenous peoples  rights in the Congolese legislation, as confirmed by the unanimous vote of the DRC National Assembly. This remarkable achievement resulted from the initiative launched by La Dynamique des Groupes des Peuples Autochtones (DGPA), BES-Net partner and Equator Prize winner. DGPA's advocacy activity to protect the environment and ensure fundamental human rights has borne fruit.
Read more about the work of DGPA here: https://www.besnet.world/permaculture-brings-promise-peace-and-food-security-two-congolese-communities
REDERC Benin rings in Biodiversity Day with youth and reforestation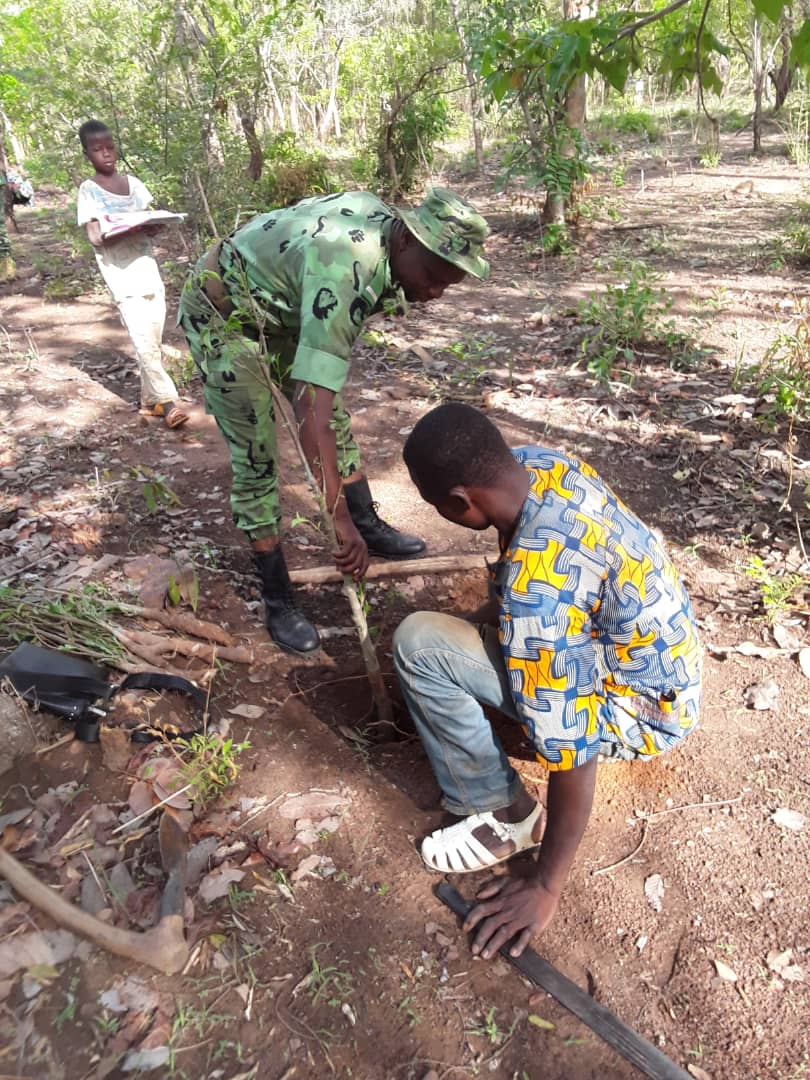 Development Network of Community Nature Reserves (Réseau de Développement de Réserves naturelles Communautaires- REDERC) is a civil society organisation uniting farmers, beekeepers, traditional healers, women's and youth groups from Papatia, Northern Benin. As the Equator Prize 2010 awardee and the BES-Net partner, REDERC celebrated the International Day for Biological Diversity under the theme: "We are part of the solution" with an active contribution to biodiversity conservation. Supported by a group of like-minded local associations, REDERC technical team addressed deforestation of the region by planting 350 baobab trees in the Botanical Garden of Papatia.
Read: PANORAMA partnership's information document
for the UN CBD's Subsidiary Body on Implementation
The PANORAMA partnership prepared an information document for the 3rd meeting of the Subsidiary Body on Implementation (SBI3) of the Convention on Biological Diversity. The document outlines PANORAMA's contributions towards long-term capacity building and knowledge management. PANORAMA documents and promotes verified examples of inspiring, replicable solutions across a range of conservation and sustainable development topics, enabling cross-sectoral learning and inspiration. It allows for 2 communication among solution providers and users through a virtual online platform and further face-to-face and virtual formats. Current themes within PANORAMA include ecosystem-based adaptation, agriculture and biodiversity, business engagement, nature-culture interfaces, sustainable urban development and resilience, protected areas, marine and coastal and more.
Learn more about the information document here: Microsoft Word – CBD SBI3 INF DOC PANORAMA 16 April 2021
Survey Call: Are you a boat user or boat owner interested in the impact of biofouling?
                  .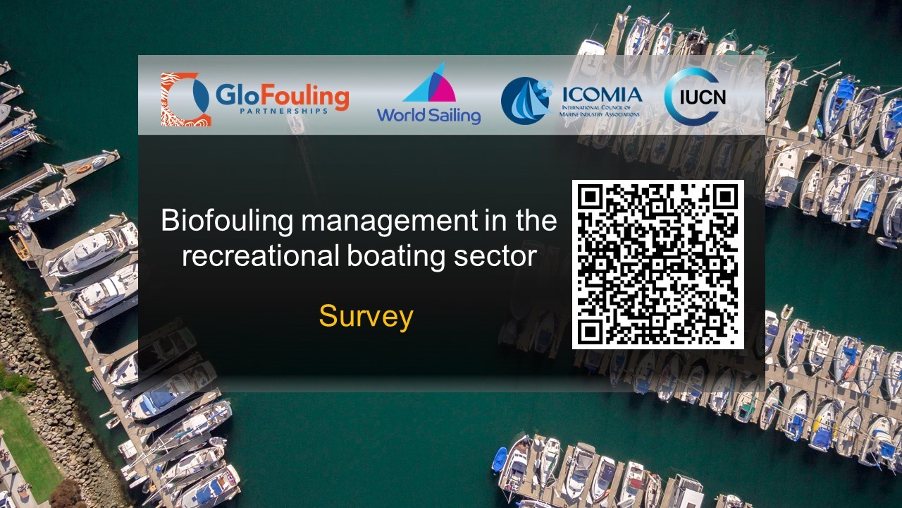 GloFouling Partnerships project – a joint initiative of the Global Environment Facility (GEF), UNDP and International Maritime Organization (IMO), is an intervention at the global, regional and national levels, with the aim to develop best practices and build capacity in participating countries for implementing the IMO and other relevant guidelines for biofouling management. The project is calling boat users and owners to complete a short survey (available in English, Spanish, French and Arabic) to help to learn about current practices and challenges faced by recreational boaters for preventing biofouling. Taking part in this survey will help the co-operating partners to identify better and more economically efficient tools for all boaters to prevent biofouling. The study will include recommendations on the best approaches to tackle biofouling in a cost-effective way for all types of sailing boats, motorboats and yachts.

Follow the link to complete this short survey: https://forms.microsoft.com/Pages/ResponsePage.aspx?id=OHM9rD1gZ0WZHcirS4nCEyVEMsMXNCpAicqGEWkMmV1URTgxVjBEVk5JVktMUTdXSUhEM0tUQ0dUSS4u

Event: Fifth Science-Policy Forum for Biodiversity and 8th International Conference on Sustainability Science
The virtual sessions of the joint fifth Science-Policy Forum for Biodiversity and the eighth International Conference on Sustainability Science took place in April with more than two thousand participants identifying key biodiversity knowledge gaps and priorities for science-policy research, needs for capacity building, and opportunities for increased technical and scientific cooperation. The Science-Policy Forum is a unique opportunity for scientists, policy makers and other relevant stakeholders to conduct open discussions and make recommendations on how science, technology and innovation can contribute to the effective implementation of the post-2020 global biodiversity framework, bend the curve of biodiversity loss, obtain positive biodiversity outcomes, and foster transformative change towards achieving the 2050 Vision of Living in Harmony with Nature.

For further details about the joint sessions and their outcomes, including videos of the sessions, please visit: https://science4biodiversity.org/
Recognize the #PowerofWetlands: Open Letter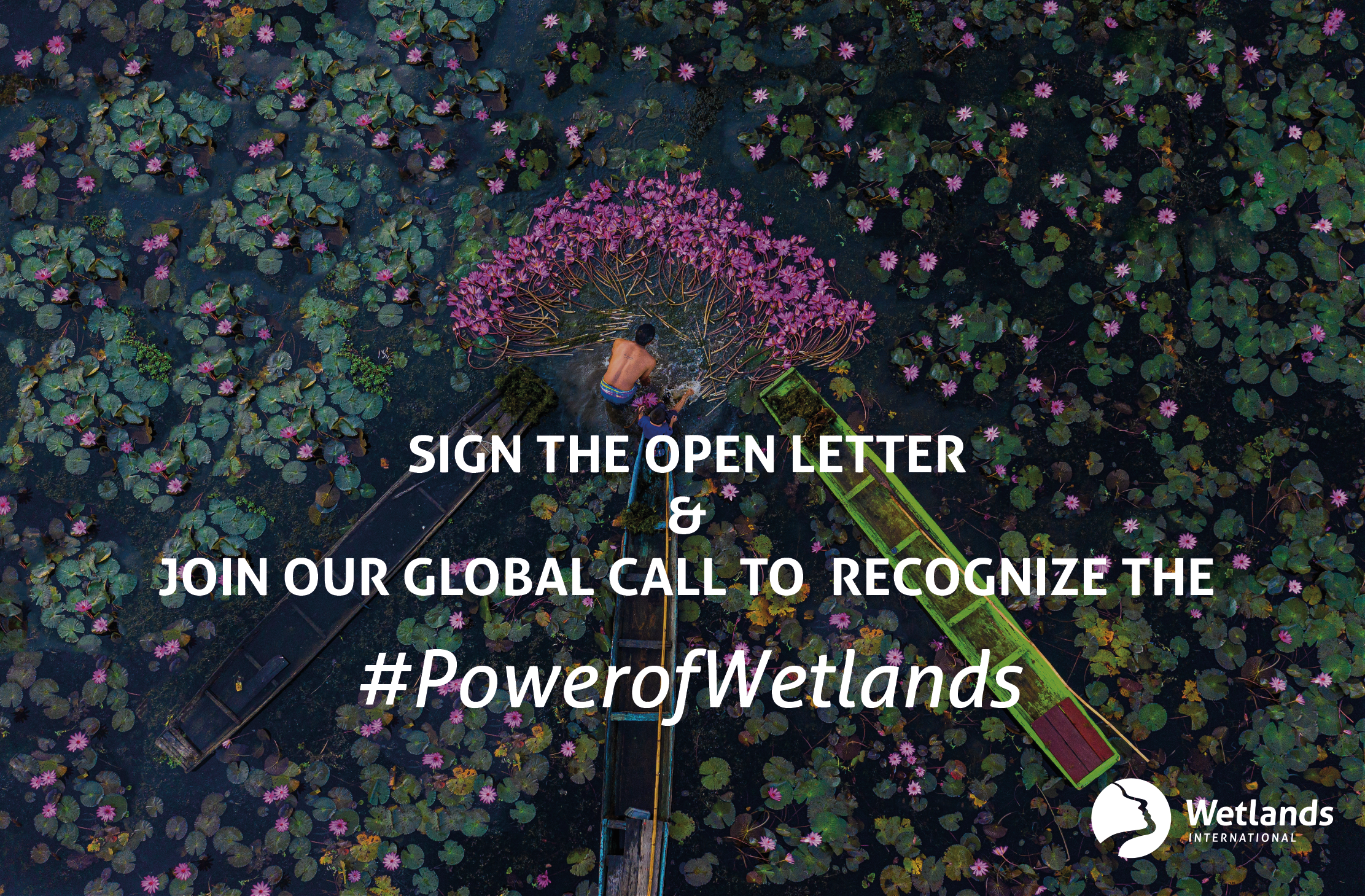 Join 1,000 others and sign Wetlands International's open letter and support the power of wetlands! From a growing global youth contingent, the open letter calls on political and business leaders, and national focal points for the Paris Agreement, to include wetlands within Nationally Determined Contributions (NDC) and the fight against climate change.  The letter is accessible here.
Webinar: Cultural Landscapes: Old and New Challenges for Sustainability
On Thursday, 13 May 2021, MDPI and the Journal Land organized the 1st Webinar on Land, entitled "Cultural Landscapes: Old and New Challenges for Sustainability ". This online seminar was chaired by Prof. Dr. Stefan Hotes, Chuo University, Japan, and by Prof. Dr. Tomohiro Ichinose, Keio University, Japan. Worldwide speakers gave their vision on how scientific information together with traditional and local knowledge can contribute to sustainable solutions to the multiple challenges for cultural landscapes. Watch the webinar here:
Call for External Review: Sustainable Use of Wild Species Assessment
 
The external review of the second order draft of the chapters and the first order draft of the summary for policymakers of the assessment of the sustainable use of wild species closes on 10 June 2021. This second external review is addressed to governments and interested and qualified experts, including scientists, decision makers, practitioners and other knowledge holders.
To participate as an expert in this external review, please register on the IPBES website here: https://ipbes.net/sustainable-use-wildspecies-assessment/sod/registration
IPBES-8: Stakeholder Days
Together with the Open-ended Network of IPBES Stakeholders and the International Indigenous Forum on Biodiversity and Ecosystem Services (IIFBES) , the IPBES Secretariat will convene, prior to the 8th session of the Plenary (#IPBES8), virtual stakeholder meetings from 3 – 9 June 2021. These meetings will bring together stakeholders, from all regions of the world, to foster even greater dialogue between IPBES and its stakeholder community.
For a closer look at the agenda, click here: https://ipbes.net/sites/default/files/2021-04/Agenda_Stakeholder%20Days_IPBES8_Final_2.pdf
IPBES-8 Plenary Session
The 8th session of the IPBES Plenary will take place virtually  from 14th to 24th June, 2021. The  agenda and working documents for the Plenary are available on the IPBES website along with the information documents and introductory video presentations for each item. For more information, visit here: https://ipbes.net/event/ipbes-8-plenary
Read: Future Perspectives on Land in East Africa: Pilot Study in Ethiopia and Kenya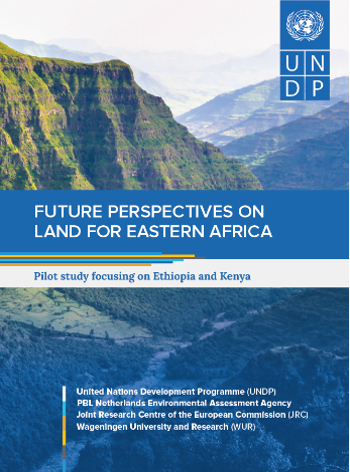 This report, released by UNDP Global Policy Centre for Resilient Ecosystems and Desertification, is the result of a study conducted over the past two years in partnership with the Netherlands Environmental Assessment Agency, the Joint Research Centre of the European Commission, Wageningen University and Research and the Governments of Kenya and Ethiopia.
The objectives of this study were to: 1) Build capacities on the use of scenario analysis to inform strategic policy making in Ethiopia and Kenya on sustainable land use and management; 2) Inform policymakers and stakeholders in both countries on recent trends (past 10–15 years) and potential future changes up to 2050 in land use and their impacts on agriculture, food supply and security; and 3) Identify key challenges for both countries resulting from these trends, given current policies and policy objectives.
Click here to read the report: https://www1.undp.org/content/nairobi-gc-red/en/home/library/combatting-land-degradation—securing-a-sustainable-future1.html
Webinar: Restoring the Planet: Faith drives urgent action
3rd June, 2021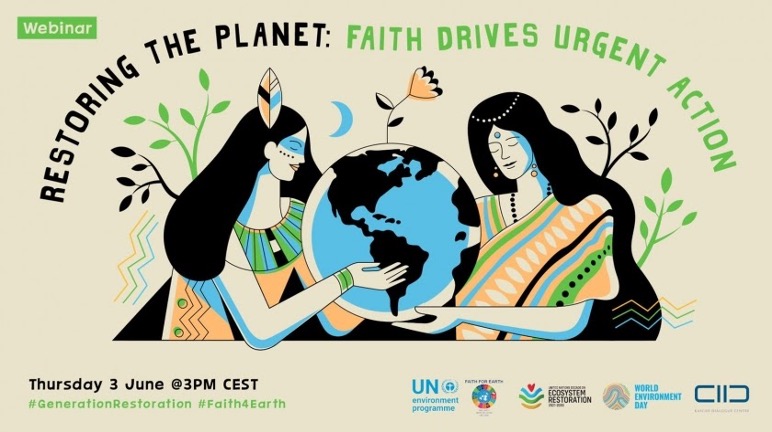 The webinar, hosted by UNEP, will bring together indigenous activists, telling their stories and journeys to change. The webinar will look at how religious actors involved in dialogue and civil activism can show a constructive path forward to restore our environment; how can faith leaders better support policymakers to ensure the timely restoration of relationships between community and nature into long-lasting, sustainable one; and what approaches can be taken to ensure that appropriate reforming subsidies and policies are invested in order to meet the environmental sustainability goals by 2030.
For more information: https://www.unep.org/events/webinar/restoring-planet-faith-drives-urgent-action
Diverse knowledge and solutions #ForNature: Thought piece for Biodiversity Day:
Click

here

 to read all about it!
Permaculture brings promise of peace and food security for two Congolese communities: Click

here

to read all about it!
Five ways to translate the post-2020 Global Biodiversity Framework into action:
Click

here

to read all about it!
Côte D'Ivoire'
s youth build community resilience through agroecology and music: Click

here

to read all about it!
Senior Programme Officer
Organization: UNEP-WCMC
Location:  United Kingdom
Closing date: 6 June 2021
See here.
---
Forest Resilience Partnerships Coordinator
Organization: The Nature Conservancy
Location: United States of America
Closing date: 11 June 2021
See here.
FOLLOW US ON SOCIAL MEDIA!
Copyright © 2021 BES-Net, All rights reserved.
You receive this email because you registered as a user or participant in one of our events.
The Biodiversity and Ecosystem Services Network (BES-Net) is a capacity sharing "network of networks" that promotes dialogue between science, policy and practice for more effective management of biodiversity and ecosystems, contributing to long-term human well-being and sustainable development. The BES-Net Consortium is made up of UNDP, UNEP-WCMC and UNESCO and is implemented with the support of the Government of Germany's International Climate Initiative.
Want to change how you receive these emails?
You can update your preferences or unsubscribe from this list.