Bi-monthly Newsletter | Issue No. 27 | January 2021
Dear BES-Net Partners and Members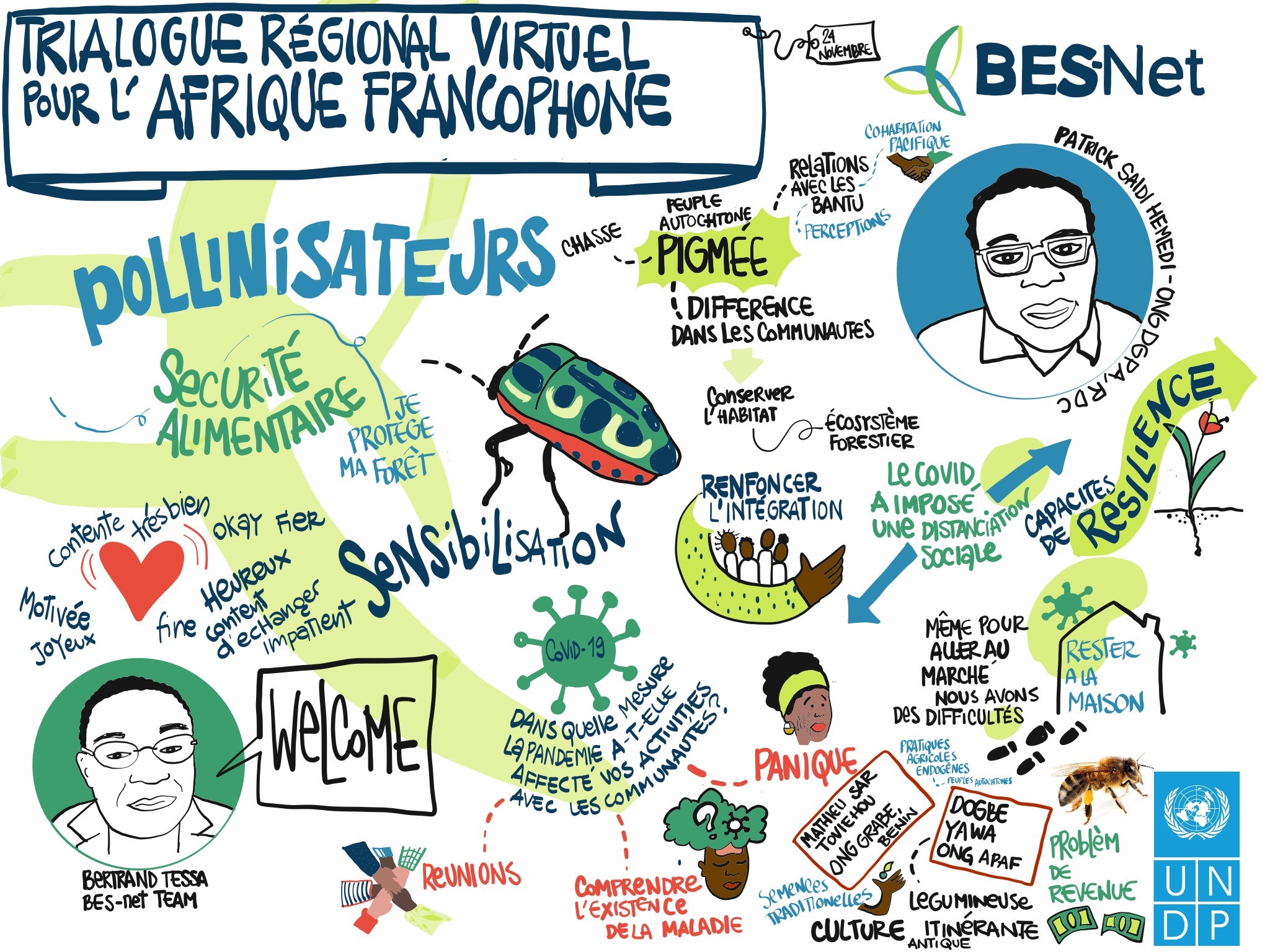 A very happy new year to all of you! As we seek to come out of the profound impacts of 2020 and the COVID-19 pandemic, we mustn't lose sights of the lessons of the year gone by. 2021 offers us a golden opportunity to reconfigure our relationship with nature- how we interact with biodiversity, how we can sustainably manage natural resources and protect our vital ecosystems. With the post-2020 global biodiversity framework and the upcoming COP15 of the Convention on Biological Diversity, we need to build momentum to act on our commitments to nature.
At BES-Net's Phase II, with the support of BMU/IKI, we are closely working with countries, policymakers, scientists and practice communities to build evidence on BES, promote dialogue and collaboration among different actors around IPBES' latest global biodiversity assessments and implement actions on the ground. With an expanded consortium of members leading, with UNDP, UNEP-WCMC and UNESCO, we now bring specialized expertise on a range of ecosystem issues. 
In late 2020, BES-Net organized a virtual dialogue session for representatives from seven countries in Francophone Africa, bringing together practitioners and indigenous and local knowledge holders. The dialogue process fostered meaningful conversation around conservation of pollinators, agro-ecological land restoration and local food production in COVID-19 times. With a new methodology designed for virtual times, the signature interactive style and the use of graphical tools, participants had the opportunity to share and learn from each other's experiences and reflect on mutually beneficial solutions. Click here to see a snapshot of some of the lessons that emerged.
Building on this virtual dialogue, BES-Net plans to organize a wider Trialogue in 2021, bringing together the representatives from policy, science and practice communities from Benin, Chad, Côte d'Ivoire, Cameroon, DRC, Senegal and Togo, to crystallize some of the discussions and solutions coming out of the first session.
BES-Net Phase II is also supporting the National Ecosystem Assessments (NEAs) of various countries, with Malawi, Thailand and Dominical Republic being the latest countries to join the process, led by UNEP-WCMC. In the first-second quarter of 2021, we expect the launch of the final assessments in Cambodia, Cameroon and Viet Nam, taking the findings and recommendations closer to shifting national biodiversity strategies, policies and plans. For more information about the inception workshop for the latest assessments, please see here.
2021 also marks the kick-off of the implementation of BES solution funds. Some of our target countries are taking the findings and recommendations from the Regional Trialogues and NEAs forward with their own action plans, implementing conservation measures, public awareness initiatives, policy mainstreaming actions and more.
Continuing the work on networking and knowledge exchange, BES-Net joined hands with Promote Pollinators, the Coalition of the Willing on Pollinators, to organize a two-part webinar series in December 2020-January 2021 on the need to pursue more pollinator-friendly pathways in the pandemic recovery. With nearly 300 people joining the webinar and an array of inspirational examples arising, this webinar set the scene for greater dialogue in 2021 on pollinator conservation. Read more about it here.
We hope 2021 will be  a productive and healthy year for all of you and the network! If you're interested in a closer collaboration or would like to bring in more partners in the fold, please reach out to us at alexandra.postrigan@undp.org, yuko.kurauchi@undp.org and prashanthi.subramaniam@undp.org!
Photo source: UNDP BES-Net
Tipping the scales for positive (climate) change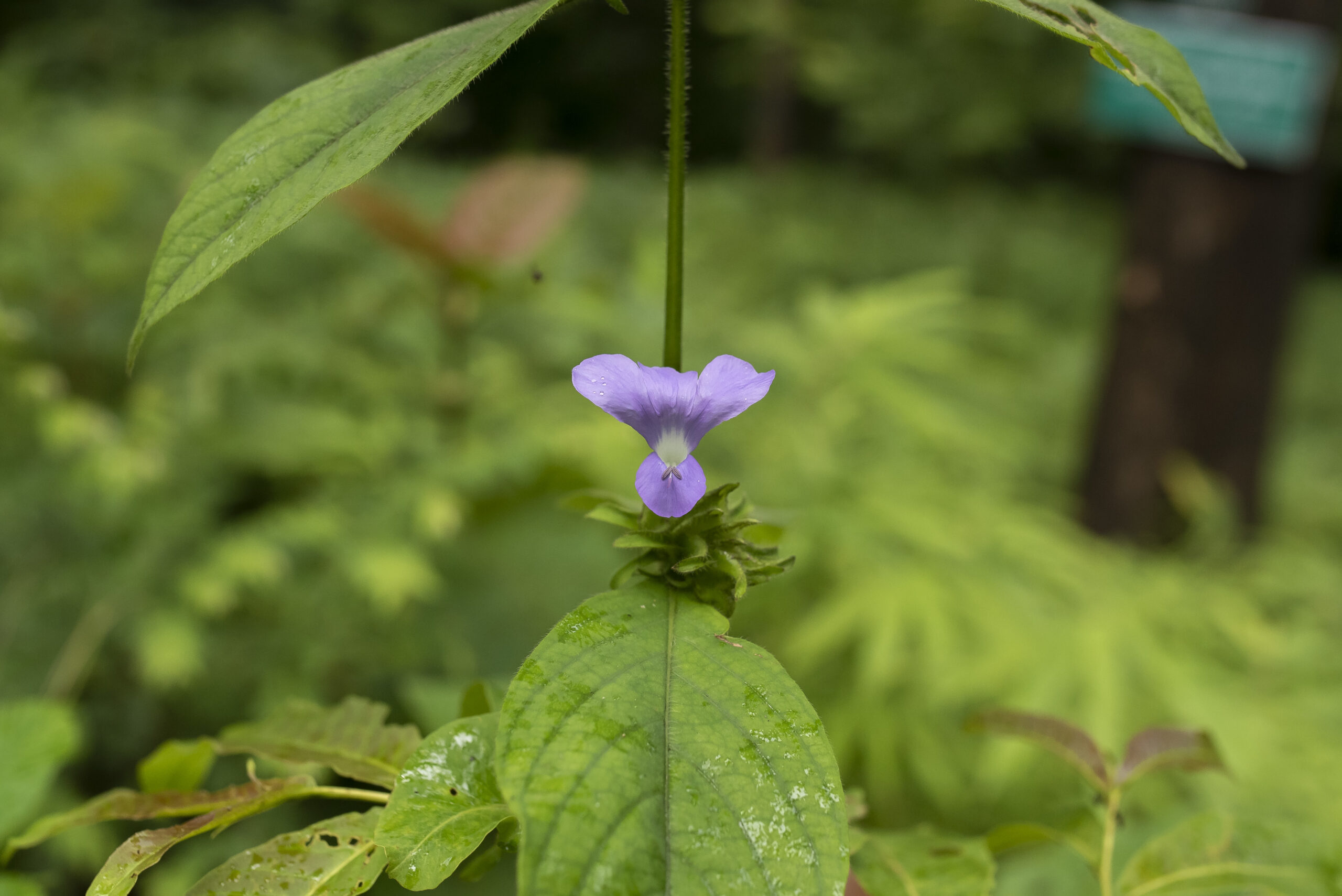 Much of the literature on tipping points for climate change and the environment has been negative and often catastrophic – trust me, I have read most of it!  If you don't believe me, here is a good place to start – 
Lenton, et al. (2019)
.
But, in spite of a couple of decades of research on environmental tipping points, some experts still remain positive. As Sharpe and Lenton demonstrated in a recently published article, climate tipping points could play a critical role in catalysing transformative change.
The new article focuses attention on the need to adjust the target, scale, and duration of policy interventions to drive positive change past critical tipping points, which make return to the pre-existing state less likely, and make further positive change, even without maintaining the original policy intervention, more likely. Sharpe and Lenton illustrate this with examples of electric vehicles and the UK power sector.
Similar positive tipping points can be found for biodiversity, taking advantage of the potential for relatively small changes, which can lead to large ecological changes. One example could be the possible trophic cascade following the reintroduction of wolves into Yellowstone National Park, which has helped regenerate riparian aspen woodland.  Similarly, beavers in the western USA have been shown to reduce wildfire vegetation damage by around 50%. A personal favourite is the "Pleistocene Park" rewilding project in northern Siberia to restore and maintain steppe permafrost yielding both biodiversity and climate benefits. Many more examples of environmentally positive tipping points can be found at http://www.ecotippingpoints.org/our-stories.html.
For far too long we have been working against nature and creating a biodiversity crisis. Can we now find more ways to work with nature to restore and rebuild a healthy biosphere and maintain a  sustainable human economy?  Can 2021 be the year we leverage positive tipping points for nature?
CAMGEW puts women's rights for forests at the forefront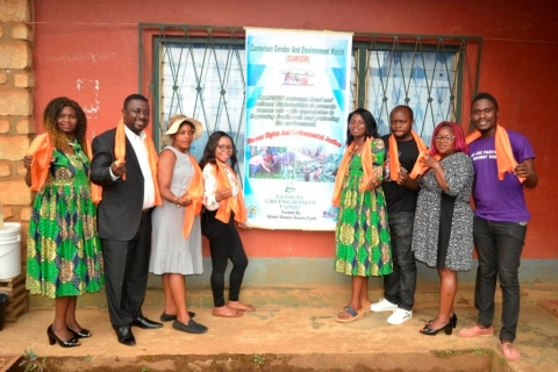 "Women have the right to benefit from forest resources and participate in forest decision making processes while at the same time bearing the duty to protect the forest," notes Cameroon Gender and Environment Watch's project leader Sevidzem Ernestine Leikeki. Cameroon Gender and Environment Watch (CAMGEW) organized a workshop on 12 December 2020 to share CAMGEW's experiences in empowering women on forest conservation and keeping forests standing for the present and future generations.
Held at the CAMGEW office in Bamenda, the workshop presented best practices developed by the non-profit in women's forest rights and looked at ways to encourage local and national actors to mainstream women's rights in environmental action plans. It also sought to engage more women and girls in forest action and build consensus around a new women's rights and environmental justice initiative in the surrounding Kilum-Ijim forest. Bringing together stakeholders from the civil society, media, forest institutions, government agencies, local government, traditional authorities, community women, and the private sector, the participatory consultation aimed to empower women to protect the forests. As a result, key stakeholders have jointly endorsed a working document and provided technical insights for the implementation of the women's rights and environmental justice project. Click here to read more about CAMGEW's efforts.
New publication from UNU and others point to drivers of coastal degradation and climate change in small island states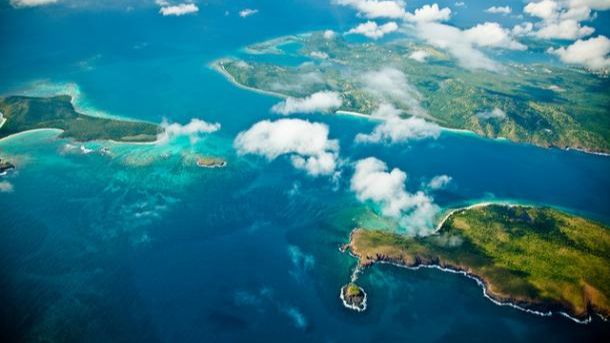 A chapter titled "Institutional and Policy Analysis: Water Security and Disaster Management in Small Island Developing States" in a new book called "Shaping the Future of Small Islands" sheds light on the drivers of coastal and marine ecosystems degradation, sea-level rise, impacts of climate change and natural disasters, demographic trends, and increasing water-food-energy needs. The policy and institutional analysis, authored by Nidhi Nagabhatla of the UN University Institute of Water, Environment and Health (UNU-IWEH), Chloe Wale and Duminda Perrera, examines local, national and international regulatory frameworks of small island developing states and programmes and projects within the SAMOA Pathway through the lens of water management and disaster risk management. The chapter explores the potential for integrated development planning and better implementation of the Sustainable Development Goals (SDGs) agenda, particularly SDG 6, with a Ten-Point Agenda, a smart strategy to transform theory on water security into effective action.
Watch: How do recreational boats help spread invasive aquatic species and what can we do to address this?
GloFouling Partnerships project – a joint initiative of the Global Environment Facility (GEF), UNDP and the International Maritime Organization (IMO) – aims to raise awareness worldwide about the issue of transfer of harmful organisms through biofouling on marine mobile structures. The Initiative recently released a journalist-led short video about the role of recreational boats as a pathway for the spread of non-indigenous species and the effects they may have on local economies. Boats can spend a long time in the marina and since their travel speed is slower, they create more opportunities for species to attach when they are in the port and to resist when the vessel is moving, which can contribute greatly to the spread of potentially invasive species in the region. To address this, a global cross-sectoral response, focused on the ecosystems management and greater awareness raising, is needed urgently.  Watch the video in full: https://youtu.be/bnGQbAfQFgM
 Survey and study shows capacity needs for Eastern Europe and Central Asia to participate in IPBES processes
   
A recent survey and study by the Institute for Biodiversity Network looked at the capacity needs of representatives from Eastern Eu

rope and Central Asia to support them to participate more fully and effectively in the IPBES processes. The study, supported by the German Federal Agency for Nature Conservation (BfN), noted that awareness of IPBES assessments and their value for policymaking was relatively low in the respective regions and thereby pointing to a greater need for organizational capacity building measures as well as capacity building targeted at individuals.
The work of IPBES benefits from the participation of as many member states as possible. In particular, the regions of South-East-Europe and Central-Asia have so far been underrepresented. Yet many institutions across these regions can act as force-multipliers for IPBES assessments and recommendations. The development of national or regional biodiversity platforms to disseminate relevant IPBES resources locally and possibly make them available in local languages was also advocated by respondents. To read more about the survey, click here.
How to diminish geographical bias in IPBES and related science? New publication aims at promoting greater representation and balance in scientific authorship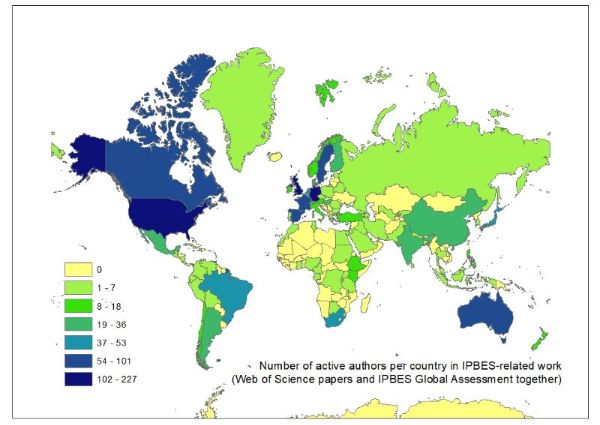 A new study undertaken by the Centre for Ecological Research, Institute of Ecology and Botany, Lendület Ecosystem Services Research Group, analysed the composition of authorship of IPBES assessments and related scientific papers. The study, authored by András Báldi and Brigitta Palotás, found that among the experts of the IPBES Global Assessment,  there is considerable imbalance with the Western European and Others Group (WEOG) clearly dominating (35–52% of authors). Still, with two exceptions, all the other regions are visible, with representations between 10 and 20%, indicating the efforts of the IPBES Bureau and Multidisciplinary Expert Panel members, and assessment leaders. The study makes key recommendations including improving capacities in non-WEOG countries, improving connections and networking among experts in under-represented regions and promoting greater inclusion of indigenous and local knowledge, among others. To read the paper, please click here.
PANORAMA Platform launches new online community for sustainable urban development and resilience for better cities
                  .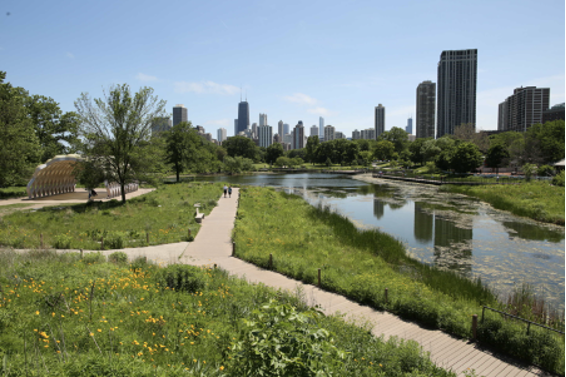 On the occasion of World Cities Day 2020, the World Bank and the International Union for Conservation of Nature (IUCN) launched the Sustainable Urban Development and Resilience community on the PANORAMA platform.

Through the new urban thematic community, the World Bank, IUCN and their partners intend to showcase pragmatic solutions to pressing urban challenges, drawing on research and project experience from across the world. Their aim is to inform and inspire action to strengthen the resilience and sustainability of cities, where the future of humanity is said to lie. All PANORAMA solutions are carefully reviewed and curated. An initial batch of 125 urban solutions has already been published offering a rich diversity of best practices. For more information, please click here.
Read: Natural forest expansion in Europe offers a plethora of benefits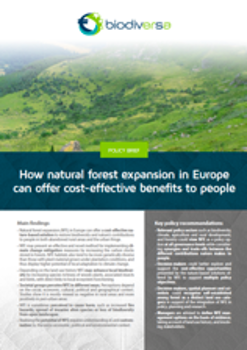 BiodivERsA's latest  brief on "How natural forest expansion in Europe can offer cost-effective benefits to people" presents how natural forest expansion can offer cost-effective nature-based solutions and climate mitigation measures. It provides evidence on the benefits of natural forest expansion, as well as insights into how it is perceived by citizens across Europe and how its potential can be fully realized. In particular, the brief calls for a better recognition of natural forest expansion in policy and management contexts, in order to better seize and manage opportunities it provides to contribute multiple policy and management objectives, for instance in the context of the future EU Forest Strategy.
Read the policy brief here.
GBIF's latest guides on georeferencing provide useful how-to for collecting and interpreting spatial and local biodiversity data

Earlier this month, the Global Biodiversity Information Facility (GBIF) Secretariat has published three documents on georeferencing that, taken together, provide an essential set of tools for improving the practice of spatially representing and interpreting location information.
Georeferencing Best Practices by Arthur Chapman and John Wieczorek offers theoretical background and methods for georeferencing descriptive localities. The Georeferencing Quick Reference Guide by Paula Zermoglio, Arthur Chapman, John Wieczorek, Maria Celeste Luna and David Bloom provides a citable protocol in the form of a practical how-to guide with rules and procedures for determining the shapes of geospatial features and using their outcomes as the basis for georeferencing. Finally, the Georeferencing Calculator Manual by David Bloom, John Wieczorek and Paula Zermoglio lays out instructions for the Georeferencing Calculator.  For more information, click here.
In 2020, GBIF also released a companion publication designed to offer guidance on how to make occurrence data about rare, endangered and commercially valuable species as available as possible and as protected as necessary. To read the publication click here.
Photo source: GBIF
Call for Internal Review: Are you a biodiversity and ecosystems expert within the IPBES community?
Join the review of the revised scoping reports for the nexus and transformative change assessments and the interim work plans for IPBES task forces. Deadline: 5 February 2021. This opportunity to review is mainly targeted at IPBES members and intended to facilitate the consideration of the scoping reports and task force work plans at IPBES 8. Click here to register to review.
Call for External Review: IPBES Values Assessment and Summary for Policy Makers
IPBES announced the start of the external review of the second order draft of the chapters and the first order draft of the summary for policymakers of the assessment on values. Timeline: 20 January to 19 March 2021. This second external review is addressed to Governments and qualified experts, practitioners and other knowledge holders.
Event Update: 4th meeting of the IPBES Capacity Building Forum puts spotlight on national biodiversity platforms
At the 4th meeting of the IPBES Capacity Building Forum, nearly 140 experts, practitioners and policymakers from across the world came together to discuss successes and lessons learned from establishing national and subregional networks and platforms on biodiversity conservation and sustainable management of ecosystem services.

Spanning over two days, the forum focused on the role existing formal platforms and more informal/open networks have been playing in supporting the work of IPBES and helping countries move towards their biodiversity commitments. The discussion shed light on how these networks help advocate and influence decisions, how to leverage and engage a wide range of stakeholders in these platforms and the role communications and advocacy can play in taking the messages from the platforms further. Click here to read more.
One Planet Summit
International commitments paving the way for an ambitious COP15 in Kunming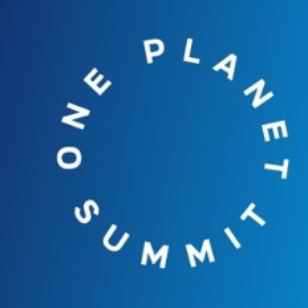 The fourth edition of the One Planet Summit for biodiversity organised by the Government of France, the United Nations, and the World Bank took place at the Elysée Palace on 11 January 2021. Political leaders, heads of international organisations, financial institutions, civil society, and academia unanimously endorsed concrete actions to address the challenges of biodiversity loss and climate change.  The Great Green Wall for the Sahel and Sahara Initiative (GGW), an African-led initiative to restore the degraded lands and re-green one of the world's poorest regions spreading from Senegal  to Djibouti, was presented by the UNCCD and collected a pledge to mobilise over 14 billion USD by 2025 from a coalition of international partners, including France and the World Bank. This high-level summit is a significant milestone for the political commitment and resource mobilisation for nature-based solutions in 2021, the year that, as Ursula von der Leyen, President of the European Commission put it, "should lead to an ambitious, global and game-changing Paris-style agreement for biodiversity" to be drawn up at the CBD COP15 in Kunming, China. For more information about the Summit, click here.
Ongoing: National Inception Workshop for National Ecosystem Assessments (Tranche III)


Kickstarting the inception of NEA process for Malawi, Dominical Republic and Thailand under BES-Net Phase II, this workshop, led by UNEP-WCMC  is intended to introduce basic concepts on NEA, gain new ideas about inspiring policy and behavioural change, and discuss implementation and lesson learned during the assessment. Besides the participants from the target countries, the event will also be attended by the representatives from the  countries currently undertaking NEAs: Colombia, Vietnam, Cameroon, Ethiopia, Cambodia, Bosnia & Herzegovina, Grenada & Azerbaijan. The first two days of the workshop were held on 27th and 28th January 2021 and focused on national and international policy relevance of the assessments, an introduction to IPBES and the assessment process, governance structures and the role of strategic communications.
For more information about National Ecosystem Assessments, please visit: https://www.besnet.world/national-ecosystem-assessments and https://www.unep-wcmc.org/featured-projects/national-ecosystem-assessments
Upcoming : 5th United Nations Environment Assembly
(22-23 Feb 2021 [First Session])
The fifth session of the UN Environment Assembly (UNEA-5) provides leadership, catalyzes, intergovernmental actions on the environment, and contributes to the implementation of the UN 2030 Agenda for Sustainable Development and its Sustainable Development Goals (SDGs). The overall theme of UNEA-5 is "Strengthening Actions for Nature to Achieve the Sustainable Development Goals".
The first session of UNEA-5 will be conducted virtually on 22-23 February 2021 with a revised and streamlined agenda that will focus on urgent and procedural decisions. See pre-session documents here. Substantive matters that require in-depth negotiations will be deferred to an in-person session of UNEA-5 in February 2022 in a format to be defined and agreed on at a later stage.
The theme calls for strengthened action to protect and restore nature and nature-based solutions to achieve the SDGs in its three complementary dimensions (social, economic and environmental). UNEA-5 provides Member States and stakeholders with a platform for sharing and implementing successful approaches that contribute to the achievement of the environmental dimension of the 2030 Agenda and the SDGs, including the goals relating to the eradication of poverty and sustainable patterns of consumption and production. UNEA-5 will also provide an opportunity for Member States and Stakeholders to take ambitious steps towards building back better and greener by ensuring that investments in economic recovery after the COVID-19 pandemic contribute to sustainable development. For more information, please click here.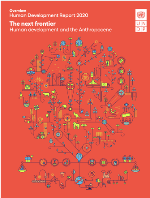 The 2020 Human Development Report (HDR)
entitled The Next Frontier: Human Development and the Anthropocene marks the 30th-anniversary of UNDP's flagship publication. The report analyses current trends in  global development through the critical lens of the experimental Planetary Pressures-Adjusted Human Development Index (PHDI), adding to the traditional HDR's triad of nation's health, education, and standards of living two more elements: a country's carbon dioxide emissions and its material footprint. Read more about various nature-based solutions in the report here: Chapter 1, Chapter 3, Chapter 5 and Chapter 6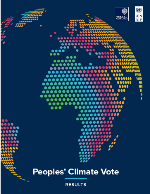 The People's Climate Vote
With 1.2 million respondents, the Peoples' Climate Vote is the largest survey of public opinion on climate change ever conducted. Using a new and unconventional approach to polling, results span 50 countries covering 56% of the world's population. The Peoples' Climate Vote is a pillar of the Mission 1.5 campaign launched in 2020 by UNDP and partners, including the University of Oxford, and a number of non-governmental organisations (NGOs), to educate people about climate change solutions and ask them about the actions that they think governments should take.
Individual Consultant: Programme Management (Business and Biodiversity)


Organization: UNEP/ IPBES




Location: Bonn, Germany




Closing date: 05 February 2021




See

 here.
---
Programme Management Officer, P3
Organization: CBD/ UNEP
Location:  Montreal, Canada
Closing date: 9 February 2021
See here.
FOLLOW US ON SOCIAL MEDIA!
Copyright © 2021 BES-Net, All rights reserved.
You receive this email because you registered as a user or participant in one of our events.
The Biodiversity and Ecosystem Services Network (BES-Net) is a capacity sharing "network of networks" that promotes dialogue between science, policy and practice for more effective management of biodiversity and ecosystems, contributing to long-term human well-being and sustainable development.
Want to change how you receive these emails?
You can update your preferences or unsubscribe from this list.