Almaty, Kazakhstan
Target Countries
Azerbaijan, Kazakhstan, Kyrgyzstan, Tajikistan, Turkmenistan, Uzbekistan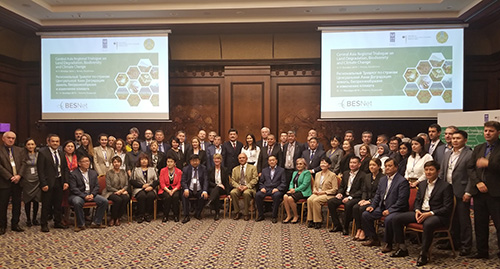 The Central Asia Region is currently faced with the challenge of land degradation and desertification. Natural landscapes and traditional fallows were converted to agricultural and industrial landscapes after the dissolution of the Union of Soviet Socialist Republics (USSR), and disintegration of collective farms. Widespread losses of fertile topsoil and nutrients has had negative impacts on natural ecosystems and the quality of life of the local populations, particularly the rural poor, who depend directly on these ecosystems, posing a major threat to sustainable development of the Central Asia countries.
In effect, there is a pressing need to establish and/or strengthen long-term sustainable land management (SLM) strategies for the wellbeing of their economy and people. This includes developing clear understanding of the multiple values of land and co-benefit of SLM in conserving critical natural capital, preserving ecosystem services, tackling climate change, securing livelihoods and improving food, energy, and water security and instituting corrective effort among the countries in the region.
The Central Asia Regional Trialogue on Land Degradation, Biodiversity and Climate Change will be the fourth Regional Trialogue to engage multi-stakeholders from the science, policy and practice sectors in dialogue. It will draw participants from the three communities of government policymakers, academic scientists and practitioners – including some with indigenous and local knowledge, and working in agriculture, environment, health, climate and related fields. They will jointly review the key messages of the two inter-linked IPBES thematic assessment reports, and assess their relevance to the ongoing efforts to achieve SDG 15.3/ Land Degradation Neutrality (LDN) and other land-related SDG targets. The Trialogue will also provide an opportunity to share the latest knowledge about the current situation, including economic impact and drivers, of land degradation in the region, the impacts of land degradation as well as the associated climate change on biodiversity and ecosystem services (e.g. pollinators decline) at national and regional levels.
Participants will explore the opportunity for "bright spots" of practical measures that harness biodiversity and ecosystem services in ways that simultaneously contribute to the achievement of the SDGs on LDN, climate change and the post-2020 global biodiversity framework.
The three-day event will be hosted by the Ministry of Ecology, Geography and Natural Resources of the Republic of Kazakhstan. It will held in collaboration with IPBES, the United Nations Convention to Combat Desertification (UNCCD) and the Coalition of the Willing on Pollinators. Six former countries of the USSR, namely Azerbaijan, Kazakhstan, Kyrgyzstan, Tajikistan, Turkmenistan and Uzbekistan, are expected to participate.