Hanoi, Vietnam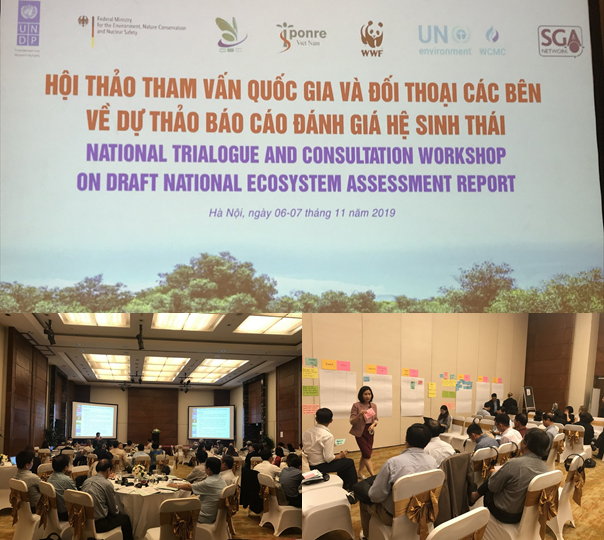 Although Vietnam has hundreds of policies and regulations related to biodiversity conservation, it still lacks a comprehensive methodology and capacity for ecosystem assessment in the context of science-policy-practice interface. Under the framework of the Biodiversity and Ecosystem Services Network (BES-Net), an effort is currently ongoing to undertake the
national ecosystem assessment (NEA)
in Vietnam. NEA is a tool to support decision-making on ecosystem management planning, investments in ecosystem protection and development, as well as ecosystem service prioritization.
The initiative has been led since 2016 by the Center for Biodiversity Conservation (CBC) under the Vietnam Union of Science and Technology Associations (VUSTA) in collaboration with the Institute of Strategy and Policy for Natural Resources and Environment (ISPONRE)/ Ministry of Natural Resources and Environment (MONRE). It not only supports the delivery of Vietnam's first NEA but also provides an opportunity to establish/strengthen stakeholders' partnerships to improve the science-policy-practice interface on biodiversity and ecosystem services. Information and experiences compiled in Vietnam will also be shared with other countries undertaking NEA through BES-Net and beyond.
The Vietnam NEA team, including representatives from relevant government and non-government organisations (NGOs), is currently refining the NEA Report and the associated Summary for Policy Makers (SPM). A consultation workshop is convened by CBC and ISPONRE/MONRE in collaboration with WWF Vietnam at this important juncture to make the NEA Report fully responsive to key policy windows and inclusive of different knowledge types.
The workshop will bring together about 80 participants from different ministries, institutes, universities, international and local NGOs and the representatives from the provinces to review the contents of the draft NEA and explore mechanisms to strengthen collaboration between the three communities of science-policy-practice.
The workshop was held on 6-7 November 2019 in Hanoi with financial support of supported financially by the International Climate Initiative of the German Federal Ministry for the Environment, Nature Conservation, and Nuclear Safety (BMU) and WWF.